MEDIA RELEASE: The AT expert community gathering in Paris for #AAATE2023
Paris, France, 30 August 2023: This week, the 17h International Conference of the Association for the Advancement of Assistive Technology in Europe (AAATE) is bringing together experts in assistive technology from Europe and the world. With 350 registrants from 45 countries, the conference offers a powerful platform of scientific debate and allows researchers, policy makers, and practitioners to learn from each other, build alliances and explore collaborations.
Tiago Guerreiro, Associate Professor at Universidade de Lisboa (Faculdade de Ciências) and researcher at LASIGE, set the scene with his keynote on "Designing Inclusive Technologies that Promote Collaboration, Playfulness, and Self-Efficacy".[1]
He emphasized the importance of designing for people and embedding ourselves and our prototypes into the community we work with. He remarked critically that we are still too often caught in "monolithic and superficial perspectives on complex ecosystems and people". In his work, he observed that accessibility was often seen as band-aid for a problem, e.g. adding a screen-reader in smartphones and so solving the issue for blind users. But that neglects the deeper layers of the access need.
Tiago compared research into appropriate assistive technology (AT) solutions with an onion – the more layers you strip away the more layers you discover. He advocated for active engagements with communities of people with disabilities to create interactive experiences that are playful, collaborative, and promote self-efficacy, in the contexts of inclusive learning, inclusive gaming, and human-robot interaction. This plea was accompanied by snapshots from previous research projects and the presentation of different methodologies applied to get a deeper understanding of the communities they collaborate with, and the impact of the interventions.
"Tiago's presentation beautifully put forward the important role of collaboration between AT experts and AT users in developing innovative solutions. We want to use the three days of the conference to discuss innovations, new insights and research findings, but also to build alliances to get solutions implemented and provide people with disabilities with a better experience with the technology", said Evert-Jan Hoogerwerf, AAATE Secretary General.
This year's conference continues the three-pronged approach of research, policy and education, resulting in a rich program of 4 scientific tracks in parallel to policy and educational sessions as well as an innovation track. Have a look at the program and follow updates around #AAATE_23 on Twitter and LinkedIn: https://aaate2023.eu/wp-content/uploads/sites/26/2023/08/AAATE2023-Programme.pdf
We thank L'Université Paris 8 de Vincennes-Saint-Denis for hosting #AAATE2023 and IFRATH, the French Federative Institute for Research into Technical Aids for the Disabled, for their support!
END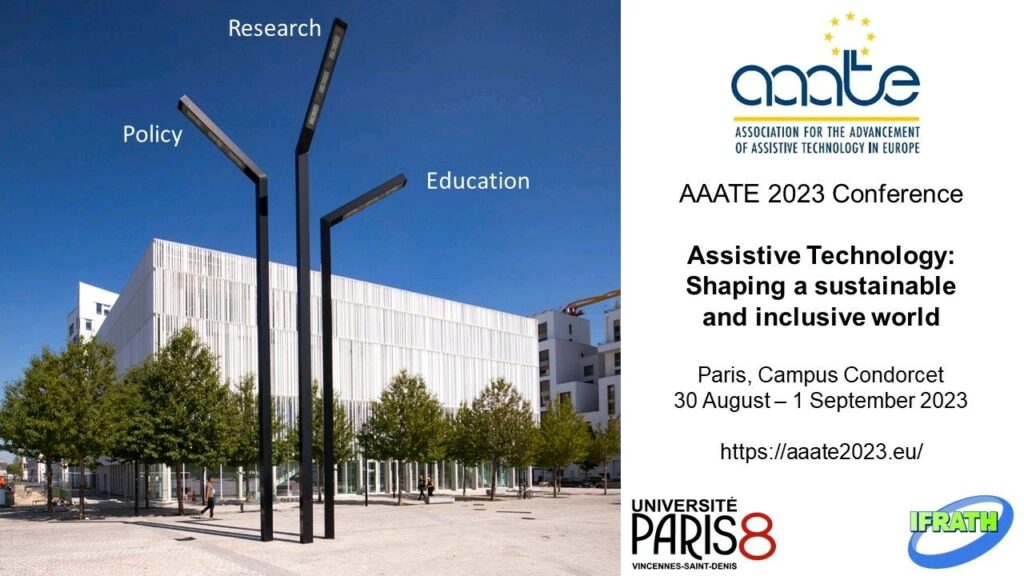 About AAATE:
The Association for the Advancement of Assistive Technology in Europe (AAATE) is a non profit membership organization and its aim is to advance the knowledge on assistive technology in all its forms and, more in general, to enhance the role technology can have in enabling citizens with functional restrictions to be active, to participate in all realms of life and to have a higher quality of life. The association has institutional and single members in almost all European countries and is part of various international collaboration frameworks, such as the Global Network of AT professional organisations and the ENTELIS network (together with other European umbrella organisations). The association organises every two years a major international conference on Assistive Technology and publishes the journal Technology and Disability.
---
[1] You can watch or re-listen to Tiago's keynote on YouTube: https://www.youtube.com/watch?v=cqNmPIPmzZY