Technology and Disability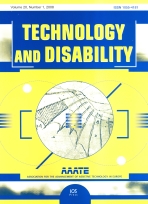 Technology and Disability communicates knowledge about the field of assistive technology devices and services, within the context of the lives of end users – persons with disabilities and their family members. While the topics are technical in nature, the articles are written for broad comprehension despite the reader's education or training. Technology and Disability's contents cover research and development efforts, education and training programs, service and policy activities and consumer experiences. – The term Technologyrefers to assistive devices and services. – The term Disability refers to both permanent and temporary functional limitations experienced by people of any age within any circumstance. – The term and underscores the editorial commitment to seek for articles which see technology linked to disability as a means to support or compensate the person in daily functioning. The Editor also attempts to link the themes of technology and disability through the selection of appropriate basic and applied research papers, review articles, case studies, programme descriptions, letters to the Editor and commentaries. Suggestions for thematic issues and proposed manuscripts are welcomed.
Free access to the electronic version of the journal is included in the AAATE membership!
To access your free electronic version of the journal, you need to be logged in, then go to the members area (only available to logged in members) and there you will find the access page.
Editorial board
Secretariat journal
Hannah Pinnock
h.r.pinnock@sheffield.ac.uk
The University of Sheffield
The Innovation Centre,
217 Portobello,
Sheffield S1 4DP
Great-Britain
Publisher
IOS Press, Nieuwe Hemweg 6B, 1013 BG Amsterdam, The Netherlands
Subscription
The membership fee from autumn 2010 onwards includes a subscription to the electronic journal. Printed copies are available from the publishers' webpage.