Honourable members and AAATE Award Holders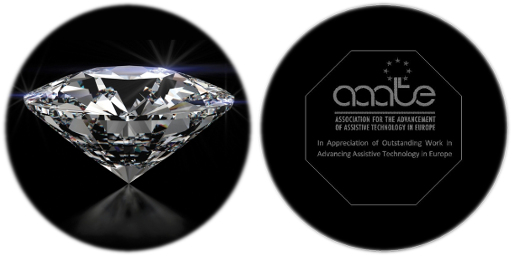 AAATE Honourable Members
"Honourable membership" is granted exceptionally by the board to persons that have played a determining role for the AT field in Europe.
Egidio Ballabio (†2012)
Inmaculada Placencia-Porrero, Directorate General Employment, Social Affairs, and Equal Opportunities, BE
Jan Ekberg, STAKES – National Research and Development Centre, FIN
---
AAATE Diamond holders
The "AAATE diamond-award" is a personal recognition, granted for outstanding work in advancing assistive technology in Europe, within or outside the Association, at international or national level. The award is granted by the board. All AAATE members can nominate individuals for the award by sending a motivated request to the president. Nominees are evaluated every year before the general assembly and awards are presented at the conference, workshop or general assembly that year.
2019
Claudio Bitelli, GLIC network & AIAS Bologna, IT
MOTIVATION: ….through his work in Bologna where for more than 25 years he has coordinated the AIAS Ausilioteca Team, and later as founder and President of the Italian Association of Assistive Technology Centres (GLIC), Claudio Bitelli has contributed significantly to the development of concepts and models for independent AT advice and assessment practices and services. With his work he has directly and indirectly contributed to the technology enabled empowerment of thousands of persons with disabilities in Italy improving their lives." 
Marcia Scherer, Institute for Matching Person and Technology, USA
MOTIVATION:….through her work for the Institute for Matching Person & Technology, her long list of academic publications and practice-oriented books and her active presence at the international AT arena, Marcia has had, and still has, an indelible and important influence on every AT professional's work. With her lifelong work she has directly and indirectly impacted the lives of many thousands persons with disabilities worldwide. She is an example for many professionals in this field. 
Previous years (in alphabetic order)
Renzo Andrich, SIVA, IT
Luis Azevedo, Technical University of Lisbon, PT
Peter Cudd, University of Sheffield, UK
Pier-Luigi Emiliani, IFAC-CN, IT
Pedro Encarnação, Universidade Católica Portuguesa, PT
Jan Engelen, University of Leuven, BE
Gert Jan Gelderblom, Zuyd University, NL (†2014)
Evert-Jan Hoogerwerf, AIAS Bologna, IT
Niels-Erik Mathiassen, Statped, NO
Klaus Miesenberger, University of Linz, AT
Anna-Liisa Salminen, The Social Insurance Institution, FIN
Cecilia Sik-Lanyi, University of Pannonia, HU
Thijs Soede, Zuyd University, NL
Paul Timmers, European Commission, BE
Outi Töytäri, National Institute of Health and Welfare in Finland
---
Best Paper Award Winners at AAATE conferences
AAATE Conference 2019

Best paper awarded: Tone Øderuda, Cosmas Mnyanyib, Jon Øygardenc, Tore Christian Storholmena, Tron Vedul Tronstadd, Developing Tablet Audiometry for Screening Children's Hearing in Tanzania.

AAATE Conference 2015

Best Paper Awarded: J. Lane & V.I. Stone, Level Of Knowledge Use Survey (LOKUS): A validated instrument for tracking knowledge uptake and use. ss p92,
C. Vincent, D.H. Gagnon et al, Service Dogs for People with Spinal Cord Injury: Outcomes Regarding Functional Mobility and Important Occupations, p847
L. Izso, I. Szekely, L. Danos, Possibilities of the ErgoScope high fidelity work simulator in skill assessment, skill development and vocational aptitude tests of physically disabled persons, p 825.

AAATE Conference 2013

Best Paper Award, sponsored by IOS Press (free open access publication): Mats Lundälv, Sandra Derbring, Annika Brännström, Bengt Farre and Lars Nordberg, Inclusive AAC – Multi-Modal and Multilingual Language Support for All
Young Researcher Award, sponsored by AAATE (free open access publication): Yuki Yamamoto, Development of Input devices of Electric Wheelchair Considering the Characteristics of the Hand Function of Person with Severe Duchenne Muscular Dystrophy
Young Researcher Award, honorable mention: Liliana Alvares, The Neurophysiology of Augmented Manipulation: a Method for Technical Implementation.

AAATE Conference 2011

Best Paper Awarded: Claude Vincent (Laval University, Department of Rehabilitation, Quebec City, Canada, Centre of Interdisciplinary Research in Rehabilitation and Social Integration), Cynthia Bergeron (Quebec Rehabilitation Institute, Quebec City, Canada), Normand Boucher (Centre of Interdisciplinary Research in Rehabilitation and Social Integration): "Strategies Developed by Parents in Wheelchairs with Children Aged 6 to 12"