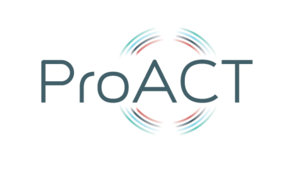 Integrated Technology Systems for ProACTive Patient Centred Care
(European Commission Horizon 2020 – Research and Innovation Framework Programme, PHC-25-2015, Grant agreement 689996)
http://proact2020.eu/
AAATE is a member of the ProACT H2020 project consortium alongside partners including, Trinity College Dublin, Ireland; IBM Research, Ireland; AIAS Bogna Onlus, Italy; Netwell CASALA, Ireland; iMinds Belgium; Tyndall national institute, Ireland; Treelogic, Portugal; Philips Electronics UK; Home Instead Senior Care, Ireland; European Association of Service providers for Persons with Disabilities; ASP Città di Bologna, Italy;
To quote the ProACT website:
ProACT (Integrated Technology Systems for ProACTive Patient Centred Care) is an EU-funded Horizon 2020 project in PHC-25-2015. ProACT targets Europe's 50 million multimorbid patients to proactively self-manage and offset the EU's annual €700 billion cost of chronic disease management. ProACT aims to develop and evaluate an ecosystem to integrate a wide variety of new and existing technologies to improve and advance home-based integrated care for older adults with multimorbidity, including associated co-morbidities.
One of the aims of the project is "Advancing Home-based Healthcare and use of ICT-AT where the continuum of care now incorporates telehealth, remote monitoring applications, point of care treatment, health informatics and analytics.
---
During the lifetime of the project AAATE organised several workshops, among which:
"Change management as a success factor in the implementation, scaling up and transfer of digital health & social care solutions" (Sheffield, 12 September 2017)
Change Management Workshop report
---
AAATE and the ProACT consortium will actively participate in the EASPD conference
Technology and digitalisation in the social care sector
The impact on education, employment and independent living
Barcelona, 4-5 October 2018
http://easpd.eu/en/content/annual-conference-2018-barcelona
Back to AAATE Projects