Accessibility skills for a technology enhanced learning in an inclusive society – the ENTELIS+ project
In January 2020, AAATE joined a consortium of 10 European organisations in the project ENTELIS+ to work on developing and implementing innovative methods and practices to foster inclusive education and promote common values, as well as fostering digital skills and competences of digitally excluded groups, such as persons with disabilities of all ages through strategic public-private partnerships.

Some of the project's objectives are:
raising awareness about the importance of accessibility as an enabler for inclusive learning and teaching
developing the digital skills of persons with disabilities and older people to participate in the digital society
building the capacity of those key actors in charge of designing and implementing facilitating frameworks (public authorities and service providers)
and finally developing innovative methods to foster inclusive education
AAATE's role in ENTELIS+ is to lead WP5 on Evaluation & Quality Assurance and to contribute to all tasks related to our expertise on assistive technologies and policy making. We will be happy to disseminate the project results among our members and the AT research community to promote lasting implementation.
ENTELIS+ is in fact a continuation of the ENTELIS project (2014-2016) which resulted in the creation of a network of organisations that still alive today is working towards reducing the digital divide by collaborating in the development of strategies and policies for digital skills development of persons with disabilities of all ages.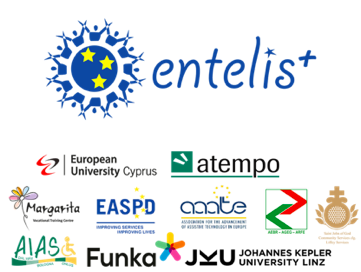 The project ENTELIS+ is co-founded by the European Commission under the project Erasmus+ Key Action 3 Support for policy reform.