AAATE WORKSHOP 2014 – Heerlen, The Netherlands

Education in Care and Assistive Technology; CAT
22 -23 May 2014, Heerlen – The Netherlands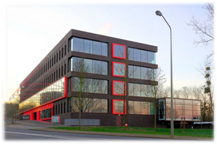 Participation fee
AAATE members: 90 Euro (for catering drinks and dinner).
Non Members: 150 Euro (catering, drinks and dinner included).
Venue
Zuyd University of Applied Sciences
Zorgacademie Parkstad building
H. Dunantstraat 2, 6419 PB Heerlen, The Netherlands
Secretariat of the workshop
Mrs. Bea Diederen
Email: bea.diederen@zuyd.nl
Hotel 
For the overnight stay Hotel Heerlen is recommended. Price per night Euro 92,- including breakfast.
http://www.hotelheerlen.nl/en/
http://www.hotelheerlen.nl/en/routebeschrijving/
Reservation code: GF-20951
From the hotel, the venue can be reached by taxi (price about € 10,- )
How to reach Zuyd University?
The building of the Zorgacademie Parkstad at the Henri Dunantstraat 2 in Heerlen is centrally located between the Atrium Medical Centre and Sevagram.
You can reach the venue easily, either by car or by public transport.
From Heerlen railway station there is a bus service to the Zorgacademie twice an hour.
Taxi service is also available at the station.
Public transport
By plane In a radius of 140 km there are 8 airports:
Maastricht Aachen Airport (22,5 km / 20 minutes) (Ryanair Airport)
Liege Airport (60 km / 40 minutes)
Eindhoven Airport (95 km/ 65 minutes) (Ryanair Airport)
Brussel Charleroi Airport (137 km / 90 minutes) (Ryanair Airport)
Brussel Zaventum Airport (120 km/ 75 minutes)
Cologne/Bonn Airport (100 km / 60 minutes) (Germanwings Airport)
Dusseldorf International Airport (112 km / 70 minutes)
Dusseldorf Weeze Airport (116 km / 80 minutes) (Ryanair Airport)
By train
The nearest railway station is Heerlen Centrum (Centre). From the station it is a 25 min walk or 5 minutes by taxi.
You can reach Heerlen station by train from the north, Intercity trains from Amsterdam, Amsterdam Airport, Eindhoven and Sittard. You can reach Heerlen from Aachen (Germany) which is connected to Cologne and Dusseldorf and you can reach Heerlen over Maastricht which is connected to Liege, Brussels and Antwerp. More information:
www.ns.nl
www.db.de
www.belgianrail.be
From the stations Aachen (G) and Liege (B), there is a Hi- speed connection with Brussels (Paris, London) and Cologne (Bonn, Dusseldorf, Frankfurt).
More information:
www.nshispeed.com
By Bus
From the bus station of Heerlen (near the station) twice an hour a bus leaves in the direction of our institute. The bus stop is near to our in institute.
By Car
From Eindhoven A2 and A76:
Direction Heerlen N281
Exit: Heerlen Zuid / direction Atrium. At exit turn right.
From Maastricht A79:
Direction Heerlen A79, Exit motorway at traffic lights.
Direction Aachen, Exit: Heerlen Zuid / direction Atrium. At exit turn right.
From Aachen A76:
Direction Heerlen, Heerlen Zuid / direction Atrium. At exit turn left.
Click here for your navigation to Zorgacademie Parkstad.
Parking space in front of the building of the Zorgacademie is limited,
please use the Atrium hospital parking garage (5 minutes walk) .