A New Approach to Designing Transport Systems Free of Mobility Barriers – Interview with ENIL about the TRIPS project
Public transport is a key element in facilitating personal mobility and independent living – both enshrined in the United Nations Conventions on the Rights of Persons with Disabilities (UNCPRD)[1] – but only if the public transport systems are accessible. The TRIPS project therefore works on a co-design approach that allows people, disabled by inaccessible environments, to take the leading role in designing accessible and useable transport systems. The aim is to address a wide variety of barriers in current urban transport systems, including barriers due to age, health, or language.
AAATE is happy to partner with the European Network on Independent Living (ENIL) in this project and has asked Frank Sioen and Laura Alciauskaite for an overview on what this project means for ENIL's members and how ENIL is participating and shaping the TRIPS project.
1) What is the role of ENIL in the TRIPS project?
Frank & Laura: The European Network on Independent Living (ENIL) is a grass root disability rights organisation with members all over Europe and the world. Our full members are disabled people and organisations managed by disabled people (DPOs). Through our members we bring direct lived experience of disabled people to the TRIPS project. This enables TRIPS to involve disabled users in the process in order to address real practical transport barriers people face on the ground.
ENIL members are also directly involved in TRIPS as local User Lead or working group member in a city. The fact that disabled people have real decision-making power to shape the project together with transport providers, departments of assistive technology and city administrations both illustrates and facilitates the co-production aim of TRIPS.
2) What are the main challenges for your members today that you would like to address with the TRIPS project?
Frank & Laura: Independent Living means being able to choose how, where and with who you want to live. Mobility is an essential part of any (independent) live. Everybody has a right to travel independently, regardless of access needs. Unfortunately, disabled people still face many barriers and challenges when using the public transport. These barriers include the fact you need to book transport in advance, are sometimes refused boarding or are referred to segregated transport services. This means that disabled people miss out on a lot of options in employment or indeed culture and other activities. In short, the inaccessibility of transport blocks disabled people from fully participating to the society as an active citizen.
The UN Convention on the Rights of people with disabilities (UNCRPD) includes an obligations for countries to make public transport accessible and closely cooperate with disabled people in this process. That said, the involvement of disabled people is often tokenistic and countries, cities and transport providers generally lack a binding long-term strategy to make the transport more accessible.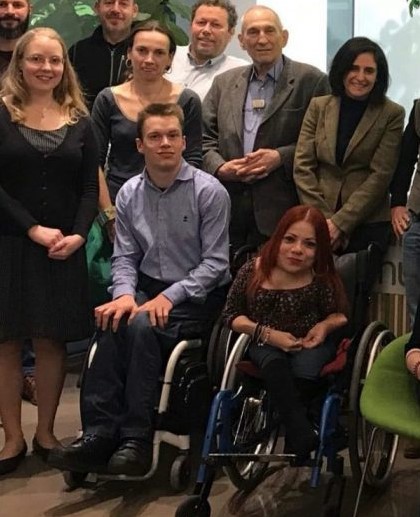 3) What would be the ideal outcome for TRIPS from ENIL's perspective?
Frank & Laura: Accessible transport ​is often perceived as ​very expensive and complex. By bringing all stakeholders together, the TRIPS project will make clear that accessible solutions based on a shared understanding of the barriers, not only enables ​people to access their right to travel but also leads to efficient and high-quality services.
This way we hope co-production and the involvement of disabled people from the very beginning in service and policy development will be stimulated in the future
4) How does the Covid19 situation impact ENIL's work on the project?
Frank & Laura: COVID 19 of course made it difficult for everybody involved, including disabled people and transport providers. Since we were not allowed to have face-to-face meetings anymore, we had to make some major changes in organizing our work. So, we had online meetings in each city and also adjusted some activities. For example, the planed shadowing of disabled transport users was replaced by a media analysis, where we are collecting posts about inaccessible transport in project cities on social media (e.g. Facebook, Twitter, etc.), written by the disabled users.
Another addition was made about the interviews: the face to face interviews were replaced by phone or video interviews. This gives us a good starting point to identify the barriers from a user perspective however we hope to be able to meet in person again soon to really start the co-production process, just as we initially planned.
5) What are additional aspects, not currently covered in the TRIPS project, that will be important to make transport truly accessible for your members?
Frank & Laura: Independent Living can only be fully realized if all aspects of society are inclusive. Transport services and infrastructure are an important part of accessibility. However, transport will only be fully accessible if the mainstream way for a disabled person to move around would be to take mainstream transport. To achieve this the perception on disability in society will need to change from seeing disabled people as people in need of protection to seeing disabled people as full citizens with equal rights to access all services.
Co-producing inclusive alternatives (like Personal Assistance) for traditional segregating settings (institutions, special schools, etc.) will stimulate a shift from specialized to mainstream accessibility and put disabled people at the steering-wheel towards an inclusive and accessible society.
For more information about TRIPS: https://trips-project.eu/
The TRIPS project has received funding from the European Union's Horizon 2020 Research and Innovation Programme Under Grant Agreement no. 875588. The European Commission is not responsible for any of the views expressed in this interview.
---
[1] Article 19 (https://www.un.org/development/desa/disabilities/convention-on-the-rights-of-persons-with-disabilities/article-19-living-independently-and-being-included-in-the-community.html) and Article 20 (https://www.un.org/development/desa/disabilities/convention-on-the-rights-of-persons-with-disabilities/article-20-personal-mobility.html).